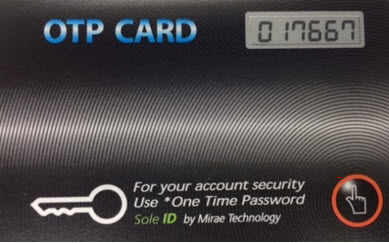 BridgeAZ, Inc.(HQ: Minato-ku, Tokyo, Representative: Youngjoon Kim) is now offering a portable card-shaped OTP token.
OTPs(one-time-passwords) are randomly generated single-use passwords. Thus, it cannot be reused even if it were to be leaked; it is one of the easiest Two-Factor Authentication methods available for corporate use.
This OTP card is compliant to OATH(Open Authentication) standards and is a TOTP(Time-based One-time Password Algorithm) token.
Equal in size to a credit card, it boasts easy portability as it is possible to carry in a wallet etc.
Product Details:
Size:H 54 × W 85 × D 0.84 (in mm)
Passcode created:6 digits (automatically refreshed every minute)
Battery Lifetime:5 years (3 years for 30,000 clicks, 5 years for 15,000 clicks)
Power saving function:automatically switches off after 60 seconds
Display:H 6 × W 23.75 (in mm)e-PAPER (viewing angle:approx. 180 degrees)
Operating temperature:10℃ ~ 40℃
Storage temperature:-10℃ ~ 50℃
Other:customizable design (extra charge)
Shipping starts from:
October 1, 2018
Price:
Open price
Introduction to the OTP Card Token
※Company names and product names listed are trademarks or registered trademarks of the respective companies.
Contact us for more information:
Company: BridgeAZ, Inc.
Department: Sales Department
TEL:03-6874-0704
Email: sales@bridgeaz.com